Competitive, Reliable,
and reputable
With over 10+ years of experience in the local Phoenix Residential and Commercial industry.
We don't just want to work for you,
we want to work with you.
All Spectrum Builders prides itself on extreme professionalism and attention to detail treating each project as if it was our own.  We specialize in high end interior renovations, kitchen/bath remodels, and additions, with the ability to customize any project to your needs. 
Experienced working within stringent requirements such as resorts, care centers, and master planned communities where logistics, scheduling, cleanliness, and safety are a top priority to owners and residents. Our commitment to quality and service has allowed us to build and maintain long lasting relationships with our clients and partners.
All Spectrum Builders focuses on excellence, commitment, work ethic, teamwork, communication, integrity, respect, fellowship, positive energy, and the cultivation of an inclusive environment that helps us preserve our beliefs and encourages us to be the very best every day.

Mission
To meet and exceed our client's expectations by executing high end, quality work, while ensuring our employee's safety in never jeopardized.

Vision
We strive at becoming the best family owned construction business in the valley, earning our reputation by ALWAYS providing customer satisfaction with our world-class work.
Our employees are the foundation of All Spectrum Builders and we believe in treating them as such, their success and growth determines ours. We take pride in our work and aim to complete every single project beyond our client's expectations; hence, we only select and hire workers who strive to do their very best, work well in a team environment, and have excellent work ethic. Our dynamic team works efficiently together enabling high quality projects that are on time and within budget.
Operations & Business Development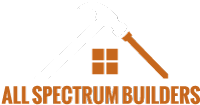 Over 10+ years of experience in the local Phoenix Residential and Commercial industry.